THE UK's LOCAL SUPPLIER - 12 UK Sites For our LC and Shipping containers
WELCOME to MKcontainers. We are a small family run business Est. 1979, with 12 UK storage sites to ensure you pay the lowest delivery costs for our Shipping and LC containers + our Mover boxes.
We specialize in flat pack products, and offer a complete site survey and erecting service. Best prices 365 days a year
Anti vandal unit containers and office cabins
Welcome to the MK 'Armadillo' Anti vandal range.
A complete range of secure steel store and accommodation units.
The ultimate in office and store security
Our range of Armadillo containers are a very secure range, and mainly for locations where a standard office or shipping container is just not good enough!
We can manufacture in your specific requirements, please see below our standard specification:
Office units - External
External walls, Manufactured from 1.6mm pressed, profile steel to BS 1449 part 1 HR4.
2285 in length and fully welded
Corner posts, 3mm folded mild steel.
Roof, Manufactured from 1.6mm pressed, mild steel panels
Floor, Manufactured from 70mm x 70mm RHS bearers @ 600mm centres.
Doors, Manufactured from two 1.5mm zinc plated steel skins folded and welded to form a strong and robust 50mm think door leaf. Reinforced pads are added for strength.. Dog bolts are added to create an anti - jemmy feature on the hinge side of leaf.
Door security, 11 point locking system, 25 - 10 - 35 70mm Europrofile cylinder c/w 8 keys and a round knob lever handle
Windows, Single glazed 900mm x 900mm sliding windows protected by heavy duty double steel shutters.
JACKLEGS - units available with or without fixed or de-mountable jacklegs.
Office units - Internal
Colours, optional
Floor, 18mm ply covered with 2mm polyglot, heavy duty vinyl
Wall finish, 4mm cotton ZD faced board, other finishes available
Ceiling finish, white 4mm board with plastic joint strips
Joints, plastic covered strips
Unit trim, Plastic, easy clean window trim and skirting to ceiling and floor
Electrics, To IEE 16th Edition regulations and fitted as per unit specification
Please ask for full specs, available by post or e.mail
We can offer units in many variations -
Office
Store
Canteen
Dry room
WC Unit
Canteen / store
Office / Store
Office / dry room
Office / Canteen
Office / office
Office / WC
Solo units
Standard 20ft & 40ft units
Armadillo File Store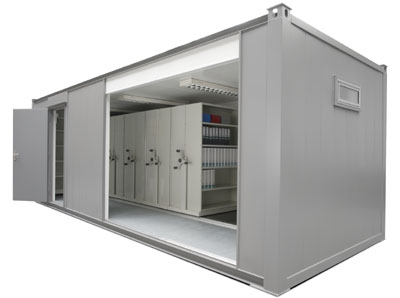 Armadillo File Store complete unit with mobile shelving bays
Multi stack
Prefabricated
A fast solution to your increased records and filing storage needs
Secure windows and doors
Includes electrics, lights, high level window
High security, smart flat sided units
Fully watertight
Short or long term use, re-locatable
These units are delivered complete with mobile shelving, ready to go ! .. The photo shows side panels taken away to view the shelving.

Sales Office
We can design and manufacture site offices to suit your individual requirements

Double stacking option with external stairs
Our range of Armadillo units, when the ultimate security is needed, and a standard office or Shipping container will not cover your security needs
Please contact us now for further information and a quotation.