THE UK's LOCAL SUPPLIER - 12 UK Sites For our LC and Shipping containers
WELCOME to MKcontainers. We are a small family run business Est. 1979, with 12 UK storage sites to ensure you pay the lowest delivery costs for our Shipping and LC containers + our Mover boxes.
We specialize in flat pack products, and offer a complete site survey and erecting service. Best prices 365 days a year
MK Security Kiosks range
Gatehouses
Standard Kiosks
Car Park control units
Smaller units are manufactured as a single moulding, eliminating the need for internal flanging, this creates a lighter less cluttered interior. All our Car park Units / Security Gatehouses can be fitted with hinge down G.R.P. Anti vandal shutters or security grills.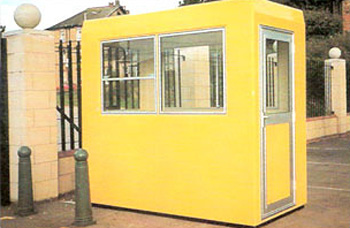 2.4m x 1.2 m Car park Control Unit
| | |
| --- | --- |
| 2.4 x 2.4 Security Kiosk | 1.2 m x 1.2 m Security unit |
Technical Information
MK Container kiosks are supplied ready for immediate use fitted out to the customers individual requirements.
The six smaller kiosks in the range ( 1.2 x 1.2 metres through to 2.4 x 2.4 metres ) are manufactured as a single moulding, eliminating the need for internal flanging, which in the smaller kiosks creates a lighter, less cluttered interior. The larger kiosks in the range are built as multiples of the smaller units.
WALLS AND ROOF COSTRUCTION
Double skin G.R.P. encapsulating 18mm C.F.C.
FREE high-density polyurethane foam INSULATION (U-value approx. 1.2 W/m2 Degrees C.
Average sound reduction of 15-25 db in the 100-5000 CPS range.
EXTERNAL FINISH
Isopthalic polyester gelcoat resin pigmented to a range of B.S. or RAL colours.
INTERNAL FINISH
Washable acrylic eggshell paint over textured coating.
TIMBER INSERTS
Timber inserts can be added to support shelving or for other load bearing applications.
WINDOWS AND DOORS
4mm toughened glass in anodised aluminium frames (there are also a limited amount of powder coated colours at extra cost.)
WINDOWS
Available in a variety of styles including Fixed panes, Vertical and Horizontal Sliders, ticket and document issue and retrieval etc.
DOORS
Supplied either fully/half glazed and fitted with a 5 lever lock.
Double door configuration available for instrument housing units.
FLOOR
3mm ribbed rubber matting or heavy duty vynal floor tiles over 18mm WBP grade plywood on 25mm insulation.
A vapour barrier to be positioned between the kiosk and the concrete plinth is also supplied as are holding down bolts and sealant.
ELECTRICS
Standard electrics include:
1 NO. Fluorescent light fitting ( 2 on 2.4 x 2.4 kiosks ) and switch.
1 NO. 13 amp switched double socket wired via surface mounted mini trunking to a 2 way consumer unit with M.C.B's.
Extra electrical installation work can be carried out on request.
FITTINGS
Various internal and external features are available including:
shelves
cash and document draws
heaters and ventilators
shutters and security grills etc
Prices on application.
All kiosks must be mounted on a level concrete plinth which
should be a minimum of 100mm thick and extend at least
50mm beyond the perimeter of the kiosk