THE UK's LOCAL SUPPLIER - 12 UK Sites For our LC and Shipping containers
WELCOME to MKcontainers. We are a small family run business Est. 1979, with 12 UK storage sites to ensure you pay the lowest delivery costs for our Shipping and LC containers + our Mover boxes.
We specialize in flat pack products, and offer a complete site survey and erecting service. Best prices 365 days a year
MK-108 Steel Galvanised Garden Sheds
The 108 is the largest model in our range and ideal for storing ride-on equipment or larger garden machinery. It is supplied with two (acrylic) windows which are fitted both sides of the wide double doors. As an option this shed can have an additional two windows fitted to the rear (giving a maximum of four windows) or, for security, no windows at all.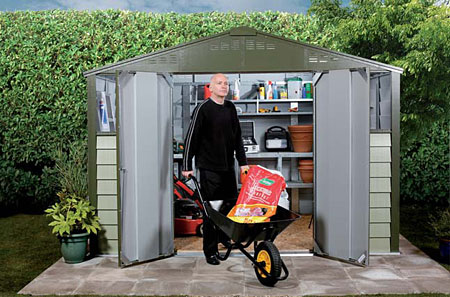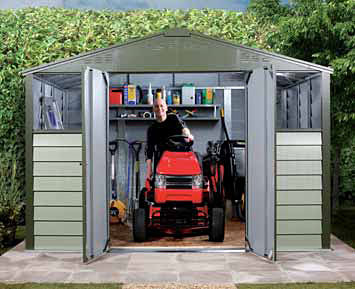 A full range of accessories is also available for Titan 108 garden sheds including additional
windows, shelving, benching, wooden floors, and alarm.

Siting: MK sheds must be bolted down onto a flat and level concrete base. The recommended
thickness of the base is 100mm and the base dimensions are shown in the dimensions table.

Roof style: The 108 has an Apex roof style.
Our MK-108 garden shed is unique in its design, strength and quality.
STRONG, RIGID & UNIQUE DESIGN
SECURE LOCKING MECHANISM
MAINTENANCE FREE
25 YEAR PANEL GUARANTEE
PVC-COATED GALVANISED STEEL CONSTRUCTION
VENTILATED
FIRE - RESISTANT
SIMPLE, RAPID CONSTRUCTION
CLEAR STEP BY STEP INSTRUCTIONS
RANGE OF ACCESSORIES
Specification
Integral Base: Standard on all models
Panel Material: PVC-coated galvanised steel
Panel Colour: Two tone only
Exterior Fixings: Stainless steel
Other Fixings: Galvanised (zinc coated) steel
Base and Frame: Galvanised steel
Lock: Keyed lock with cammed locking bar locating to both top and base of door
Door Location: In 10' face
Door Height: 5'9'' (1740mm)
Dimensions in Metric (Millimetres)
MK
Length
Width
Height to Apex
Door Width
Hard Base Area
108
2430
3010
2200
1395
2700x3300
Dimensions in Imperial (Feet/Inches)
MK
Length
Width
Height to Apex
Door Width
Hard Base Area
108
8'
9'11"
7'3"
4'7"
8'11"x10'10"
Accessories

Windows
Supplied with two windows as standard but may be supplied without windows if required. As an
optional extra these sheds may also have four windows.


Shelving and Benching
Two-tier shelving and benching are available for all Titan models. The shelving is fixed to the inside face of the shed frame and the benching is free standing.

Shelving Dimensions (Two-tier): 69" (1752mm) Long x 8" (203mm) Deep.
Benching Dimensions (Two tier):33" (838mm) High x 15.5" (394mm) Deep with length depending on Titan model from 43" (1092mm) to 86" (2184mm).



Wooden Floor
High quality wooden floors can be supplied for all models. These are cut to size and are placed onto a ledge which is integrated into the building's base frame. A metal floor support kit is also included and recommended if heavy items are being stored.




Alarm
Key pad operated infra-red movement sensing alarm with loud (130 db) siren comes complete with unique fixing bracket for easy installation.
Note: Batteries not included.

Please contact for best price and service

01935 476555
sales@mk-containers.co.uk