THE UK's LOCAL SUPPLIER - 12 UK Sites For our LC and Shipping containers
WELCOME to MKcontainers. We are a small family run business Est. 1979, with 12 UK storage sites to ensure you pay the lowest delivery costs for our Shipping and LC containers + our Mover boxes.
We specialize in flat pack products, and offer a complete site survey and erecting service. Best prices 365 days a year
Stack & Nest Plastic containers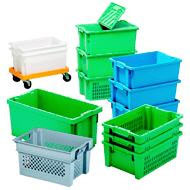 We stock a vast range of plastic containers, over 1000 types, from many uk and european manufactuers.
We are convident you will find your requirements within our range, please contact us with the type and dimensions you require, our prices are very competetive with service to match!








Stack nest containers
Our tough, dependable stack nest containers protect product during picking, assembly, processing, storage and distribution applications. These easy to use forms of plastic packaging are suitable for a wide variety of industries, from small parts to produce, including food, drink, pharmaceutical, automotive, aerospace and electronics. We offer a comprehensive range of stack nest plastic containers, which save on plastic packaging costs.
Our versatile stack and nest containers are available in several styles to add superior space savings for efficient storage and distribution. They stack up to nine high, with or without lids. The boxes stack when full, optimising space utilisation for distribution. When empty, the containers turn 180 degrees to efficiently nest inside one another for return transport or storage. This takes up 70% less space and results in superior savings.
All containers in the plastic packaging range are produced in food industry approved, recyclable polypropylene. The durable plastic boxes are able to resist the damaging effects of oils, solvents, and other solutions, and their lightweight yet robust container design enhances conveyor performance. Easy to clean and lightweight, the stack nest containers are all available with either perforated or solid sides or bases, with capacities from 18 to 87 litres.
Handgrips ensure excellent manual handling, and the boxes are available in a variety of colours. A vented sidewall is an option for proper air circulation and quicker cooling of produce in the container.
Durable stack nest containers are the ultimate reusable form of plastic packaging, particularly when space is a consideration. They work well with conveyors, dollies and other automated equipment, to create a complete transit packaging system.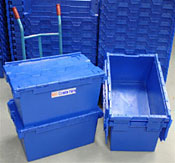 Our Stack & Nest 80 Litre Crates are very popular with moving companies and hire firms, available at discounted prices.
Stackable containers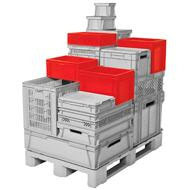 Stackable plastic boxes are suitable for the distribution of goods in a variety of industries and offer many opportunities for efficient materials handling. The multitude of sizes and designs of the plastic box means they can be tailored to the flow of goods in most situations.
Made from food industry approved, injection moulded polyethylene, they are ideal for storing and transporting food products. This also makes them resistant to most chemicals and solvents, rust, corrosion and bending out of shape. They are also popular within the automotive industry.
The containers are available with a flat or reinforced base, and are available with either perforated or solid sides or bases. The plastic boxes have smooth internal surfaces and rounded corners for ease of cleaning.
The design of the boxes, and given that are made from plastic, provide stability in transport, while the straight sides and modular sizes simplify stacking and storage. Stackable plastic boxes achieve maximum capacity utilisation when stacked for distribution. They can be stacked up to ten boxes high.
They also achieve minimum volume when nested for return shipment or storage. The lids can be folded and placed in the boxes, which can then be nested in each other, for cost effective storage and distribution. When folded, the boxes save up 70% less space.
Conveyor performance and safety is enhanced by the containers' lightweight yet robust construction. A handgrip design makes for easy and comfortable manual handling, and label holders or code strips enable automatic routing and own branding. The plastic boxes are able to withstand temperatures from –30°C to + 100°C and have a capacity of 18 to 87 litres.
Stackable plastic boxes provide maximum economy and efficiency. They boast a long life and reusability. What's more, they offer considerable cost savings over alternative products. Small, versatile and easy to handle, they are the perfect solution for automated handling systems.

Euro
Containers

Gallia



Uni-box
(low cost
popular
container)

VDA-R /
RL - KLT
Nestable containers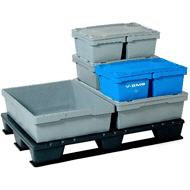 Returnable plastic storage boxes have vastly replaced one-way packaging systems. The Small Box-System has been developed based on the specific requirements of the automotive industry. The system simplifies the component flow between suppliers and assembly plants, or can be used to transport and store your products within your facility. The container line is also suitable for applications in several other industries, such as retail (food and clothing).
| | |
| --- | --- |
| Small Boxes | Lids |
GREAT VALUE containers
MK also stock a range of GREAT VALUE containers moulded from RECYCLED PLASTIC and
OVER - RUNS

Mostly 300 x 400 and 400 x 600 boxes
Lidded
Stacking
Nesting
Stack & Nest
Food grade and standard industrial quality
Please ask for current stock details, these containers are always at least 50% off the normal range
For sizes, Colour and best prices please phone or e.mail

01935 476555
sales@mk-containers.co.uk