THE UK's LOCAL SUPPLIER - 12 UK Sites For our LC and Shipping containers
WELCOME to MKcontainers. We are a small family run business Est. 1979, with 12 UK storage sites to ensure you pay the lowest delivery costs for our Shipping and LC containers + our Mover boxes.
We specialize in flat pack products, and offer a complete site survey and erecting service. Best prices 365 days a year
Mover Boxes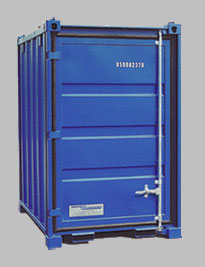 MOVER BOX - The compact and handy container for removal companies, construction sites and industry!
The newly patented Mover Box offers ideal protection against fire or water hazards. This steel container is fire and water proof. The Mover Box can be safely stored outside when you fit a padlock.
Real tests carried out by an independent Fire Research Institute have shown that any fire breaking out inside a Mover Box whilst the doors are closed will stop within a few minutes and will not spread to other containers due to the special fire protection strips.
External dimensions(mm): L:2200 W:1600 H:2445
Internal dimensions(mm): L:2040 W:1500 H:2200
Weight: 550kg