THE UK's LOCAL SUPPLIER - 12 UK Sites For our LC and Shipping containers
WELCOME to MKcontainers. We are a small family run business Est. 1979, with 12 UK storage sites to ensure you pay the lowest delivery costs for our Shipping and LC containers + our Mover boxes.
We specialize in flat pack products, and offer a complete site survey and erecting service. Best prices 365 days a year
Expandachem Storage Units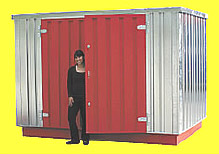 Man - portable hazardous Storage units
Available Sizes:
Information
Expandachem, the latest addition to the exciting Expanda product range, designed specially for the safe storage of hazardous materials. Featuring double doors for easy access, a sumped base for contained spillage and a suspended grated floor.
Great for siting in locations with limited access. It is light enough to be man handled and the components are small enough to fit through small passageways. No need for cranes, forklifts or specialist tools. Just a socket set - and you're away!
Once erected, it can be lifted from its lifting eyes with a cargo on board! Expandachem can be linked to another Expandachem unit to form large open plan areas of storage space as required (side by side and end to end).
Features:
Fully galvanised body, with powder coated double-doors
Less storage space when not in use
Simple assembly
Fully expandable (modular) capability
Optional forklift feet
Optional self levelling feet
Optional 'Snap-in' shelf uprights & arms
Optional external powder coated painting
Low cost
Comes with a double locking system for additional security at no extra cost
Sumped base with suspended floor, for containing any spillages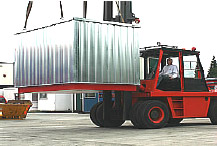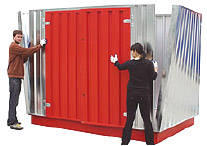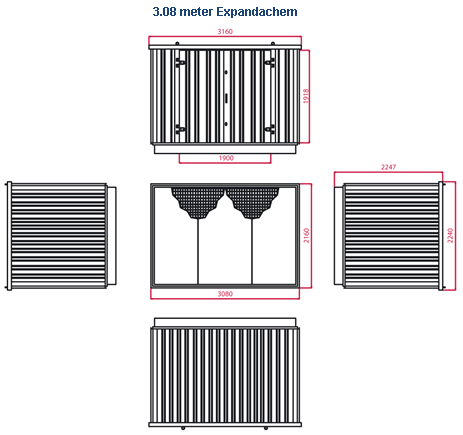 Man Portable - No lifting gear or cranes required
Demountable - Dismantles into flat pack form quickly
Expandable - Additional units can be added either side by side or back to back
Complete - Everything required for assembly is in the kit. No additional fixings needed
Secure - Double locking system is standard
Simple - No specialist tools are required for assembly, just a socket set
Quick - Ready for use in 20 minutes

The Expandachem features lots of the optional extras, such as shelving, tool bins, forklift feet...
PLEASE CONTACT FOR CURRENT BEST PRICES AND SERVICE TO MATCH !