THE UK's LOCAL SUPPLIER - 12 UK Sites For our LC and Shipping containers
WELCOME to MKcontainers. We are a small family run business Est. 1979, with 12 UK storage sites to ensure you pay the lowest delivery costs for our Shipping and LC containers + our Mover boxes.
We specialize in flat pack products, and offer a complete site survey and erecting service. Best prices 365 days a year
Flat-Pack Office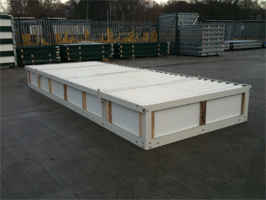 Complete in around 2 hours!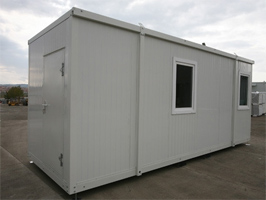 THE ALL NEW FLAT PACK OFFICE FROM MK EXPANDA-COM
The totally MAN-PORTABLE 20ft flatpack office.

The all new 6m Expanda-com is here, we are sure you will be impressed with this unique product.
This is the only 20ft cabin on the market that is completely man-portable.
Size: 6m x 2.3m / 2305mm high
DIY assembly
No cranes necessary
No specialist tools required to build
Fast assembly time
Robust but lightweight construction
Ideal for inaccessible areas
Can be stacked
Link cabins together to form larger spaces
Fully insulated
Galvanized steel construction
Vinyl floor covering
Double glazed windows
Simply replace damaged panels
Electric pack available
Window guards available
Stacking kit available
The prefabricated Expanda-com is an insulated closed volume demountable accommodation unit, designed for use in very restricted areas above and below ground. Assembly is simple, and is achieved by mounting the sandwich panels and components into the steel frame and chassis, requiring only manpower.
The unit comes with 1 x door panel and 2 x window panels as standard. These panels can be placed anywhere within the frame in order to design different configurations. Additional windows/doors can be placed within the structure.
WALL PANELS
50mm sandwich panels consisting of two .40mm powder coated galvanized steel sheets with 50mm high density (16 kg/m3) polystyrene insulation. Colour: Off-white (RAL 9002)
ROOF PANELS
50mm sandwich panels consisting of two .40mm powder coated galvanized steel sheets with 50mm high density (16 kg/m3) polystyrene insulation. Colour: Off-white (RAL 9002)
Roof Structure
Ceiling supporting frame consists of a rigid and torsion resistant cold formed 1.50 mm supporting frame, (retention bars) powder coated in off-white (RAL 9002) which locate into spiggots in the four corners of the 3mm corner posts. The outer roof skin is in two parts, and consists of .73mm box profile galvanized steel complete with integral gutters.The roof structure has an evenly distributed
load capacity of100 kg/m².
CHASSIS
The floor consists of a steel structure reinforced to satisfy bearing capacity and rigidity requirements. Flooring is fixed on top of the bearing structure composing of 12mm Cement particle board on which 2 mm thick PVC linoleum covering is laid over. (Flash point B1 – difficult to burn, smoke density Q1)
Chassis Structure
Chassis supporting frames and structure are manufactured from 3mm cold formed galvanized steel profiles . Vertical profiles are 1.5 & 2mm cold formed powder coated black steel profiles. The chassis can be split into five parts if required. No insulation in chassis.
Load Capacity
Floor structure has 250 kg/m² evenly distributed load capacity. Deflection is L/300 when placed directly onto level ground.
DOOR & WINDOWS
Apertures are cold formed powder coated 1.23 mm galvanized steel. The door is 0.73 mm powder coated galvanized flat steel formed into a sandwich panel with 50mm honey comb insulation c/w with all door furniture and euro cylinder lock.
Windows: uPVC double glazed window with vacuum sealed unit (4+10.5+4), inward opening with locking handle. 805 x 1135mm. Fly screens are available.
FASTENING ELEMENTS
All nuts, bolts, and interconnecting trim are included in the package. To stack/link you will require additional add-on 'kits' that are available from your dealer.
PACKING
All components of the Expanda-com are packed to ensure that they are not damaged during transportation, loading and unloading under normal circumstances. The smallest transportation cube is achieved in this packing process.
SPARE PARTS
All components are replaceable. Additional window and door panels can be added to the original structure at any time.
Due to our continuous product development programme we reserve the right to change the specification without prior notice. MK-expanda-com is not designed to comply with U.K Building Regulations approval.
Other Flat pack units from our range: MK-Expanda-Kabin, Flat pack office

Available sizes: 2.3m long / 3.3m Long and 4.3m Long. All 2.3m wide

Flat pack single skin store. Available in 2m long / 3m long and 4m long